Holly Tucker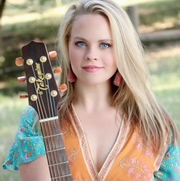 Friday 09/30 at 6:00 PM on the Main Stage
"I grew up in the 90's and was inspired most by those strong, beautiful, powerful women of country music who carried themselves with poise, decency and grace, and they made me feel like I could one day do it too. So, I'm definitely a country music artist, but my faith and values tie into everything I do."
Holly Tucker stepped on stage for the very first time and caught the bug for performing at only 7 years old, the age when most little girls are playing with their Barbies. She was 14 when she recorded her first full length CD, 17 when she recorded her second full length CD, and she was 20 years old when she grabbed American's attention with a 4-chair-turn on Season 4 of NBC TV's hit show, The Voice. Holly was one of only seven vocalists that season to receive the 4-chair honor with coach Blake Shelton proclaiming her, "the most effortless, accurate, and powerful voice." It's hard to believe that she would cast herself as "shy and a little insecure" during her time on the show, when her profoundly robust voice and stage moxie was in clear evidence with performances that categorically imprinted on the hearts of millions of viewers. But Holly is just that kind of soul; humble, gracious and always willing to come away with lessons learned. If she had stopped right there and never sang another note, her accomplishments and experiences in music would be the envy of most inspiring artists, but Holly Tucker was only just getting started.
The now 25-year-old from Waco, Texas has over the years earned several more titles, and a stronghold in her native Texas music scene with her two latest studio albums. "Steel" was released in 2016 and yielded three hit singles on the Texas Regional Radio Report. The first single "You're In Texas" hit the Top 30, making a grand entrance for this powerhouse vocalist, while also clinching "Song of the Year" and "Video of the Year" at the East Texas Radio Awards. "Wax Paper Cups," a duet with Texas artist Ray Johnston, hit the Top 40, followed by "Dallas On Your Boots" which made the Top 20, solidifying her reception at Texas radio. The success of "Steel" traveled much farther than the radio airwaves though putting her literally on the map with a tour alongside revered artists including Tracy Byrd, Willie Nelson, Restless Heart, Linda Davis, Clint Black, Koe Wentzel, Hudson Moore, and many others. By the time Holly was ready to record and release her next project in 2019, she was Texas Country Music Association's reigning "Female Vocalist of the Year" for three years running.
In 2019 came the release of "You're Gonna Know My Name" with an impressive list of six single releases, including "Rhythm of You," her most successful single to-date, topping out at #6. In light of her continued success song-by-song, 2019 was a time of personal darkness for the young artist who was trying to simultaneously minister to her budding music career and a multiple fractured heart. A string of bitter losses were enough to dismantle pretty much any human being, but Holly chose to reach up through those dismal depths and harness the power of her pain and her faith to create an exit route through songwriting. With the flood gates wide open, some of her most intimate and piercing music is yet to be heard.
Outside of music, Holly has long understood that there is more to living life just for yourself. She has a huge heart for giving to those in need through various charities and non-profit commitments. Her free time is well spent with family, friends and fur baby, Maverick. Above all, Holly wholeheartedly knows her life's calling is to "reach the unreached" with her music. So now, with hindsight vision a perfect 20/20, Holly Tucker has much more to say, and fans will hear from her again in the form of new music in summer of 2021.
www.hollytucker.com www.facebook.com/hollytuckermusic www.instagram.com/hollytmusic www.twitter.com/hollytmusic
Share this: