Rodney Whatley Band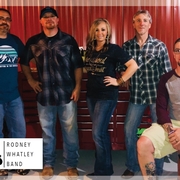 The Rodney Whatley Band is made up of 5 talented musicians from Northeast Texas that puts a unique twist on Texas Country.
Rodney Whatley from Linden, TX., fronts the band and plays guitar, a little fiddle and mandolin and it's been rumored that he can also play piano, however we won't get to hear those talents as he sticks to guitar and singing in the group. Rodney draws his influences from Bluegrass, Southern Rock and some Outlaw Country.
Charity Belcher makes her home in Cunningham, TX., where she was born and raised. Charity sings and plays acoustic guitar, she is from a long line of singers and musicians and has been singing for as long as she has been talking, she learned piano when she was 6 yrs. old and at 14 yrs. old picked up the guitar. Charity has a true southern sound and has always loved county music and blues and you will hear it in her music along with influences from many other genres.
Francisco Mirabent is from Linden, TX., where he grew up playing guitar and having jam sessions with some of the area's best musicians. He has been compared to some of the greats including Eric Johnson and Stevie Ray Vaughn however he has his own diverse technique which bridges the gap of many different styles.
Jason Kennedy comes from Texarkana, TX., he has been playing drums for 20 yrs. and has a range of influences from funk to blues.
Ricky Roach is originally from Bogata, TX., and now makes his home in Cookville, TX., he is the bassist for the group and has played with a variety of artist including Nashville recording artist Ricky Lynn Gregg. His musical interest started at an early age with Southern Gospel as well as Country and Southern Rock
Come out and hear the unique sound of the Rodney Whatley Band which comes from the mesh of the diversity and influences of the many genres and personality's in the band.
Share this: