2015 Winners
Titus County Fair 2015 Scholarship Winners
This year the Titus County Fair is pleased to announce the increase in Scholarship amounts to $2500 for the top girl and boy applicant, and two additional scholarships in the amount of $1500. The Board of Directors felt it was time to sweeten the pie for local high school seniors with the rising cost of attending college. We feel blessed to be able to make this investment in the lives of these four outstanding young people.
The $2500 winners are Cassidy Michelle Russell and Taylor Laithe Godfrey. Winning $1500 scholarships are Caitlyn Nichole Billups and Sarah Leann Bradley.
Cassidy Michelle Russell is the daughter of Larry & Karen Russell and is a Senior at Mt. Pleasant High School. She is ranked 8th in her graduating class and is a member of the National Honor Society, National Technical Honor Society, Student Council, FFA and has been a Tiger Doll all 4 years, serving as Sergeant, Jr Lieutenant and currently, 1st Lieutenant. Cassidy was selected All School Girl and has been Rotary Student of the Month. She has been on the Volleyball Team and has played Softball all four years of high school. Cassidy is an active member of Highland Park Baptist Church and has participated in many community activities such as: Relay for Life, Coats for Kids, Canned Food Drives, Health Fairs, Veteran's Day Programs, Food 4 Kids Backpack Program & Salvation Army Bell Ringer. Her fair participation began with Poster Contest in Kindergarten, and on to Baseball Skills, Punt, Pass & Kick, Science Fair & Essay Contest in Academic Rodeo, Face Painting & performing with Tiger Dolls, and had her first Market Steer Last year winning Best Weight Gain. This year she plans to exhibit another market Steer and do Face Painting for Tiger Dolls at the fair. After graduation Cassia plans to follow a family tradition and attend Texas A&M University majoring in Psychology.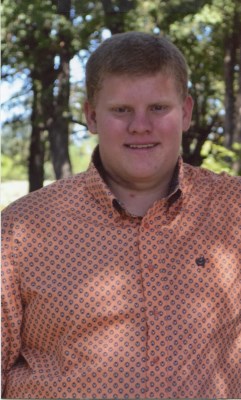 Taylor Laithe Godfrey is the son of Laine & Melissa Godfrey and is a senior at MPHS. Laithe has been very active in FFA all four years, serving as officer for 2 years. He has been delegate at the State FFA convention on 2013 & 2014 and has earned many awards in FFA. He has shown heifers at several major livestock shows. Laithe was one of 2 chosen to represent Titus County at the Farm Bureau Leadership training program. He was recently accepted into Cookville VFD and has earned his CPR certification. He is very active in the Nevill's Chapel Baptist Church youth program. His fair activities began with poster contest in elementary school, helped to park cars with Cub Scouts and Church youth group, chaperoned Rusty Gears the Robot, has shown steers each year since 3rd grade and began showing heifers in 2007, assisted with Buyers luncheon, worked FFA concession stand, and participated in Education Day every year of High School, set up and take down fences around fair grounds and picked up trash at the fair. He will be showing his 10th Market Steer at this year's fair. His work experience includes mowing yards, working at Earnhardt's feed store, and working on family poultry farm, baling hay and shredding pastures. He has 5 head of cattle that he AI's for show prospects. He enjoys hunting, fishing, camping and riding 4 wheelers. Laithe was accepted into the Work Scholarship program at NTCC and plans to attend there after graduation, transferring to Connors State College in Oklahoma to finish a degree in Wildlife Ecology & management before applying to the Texas Game Warden Training Academy to fulfill his lifelong dream of being a Game Warden.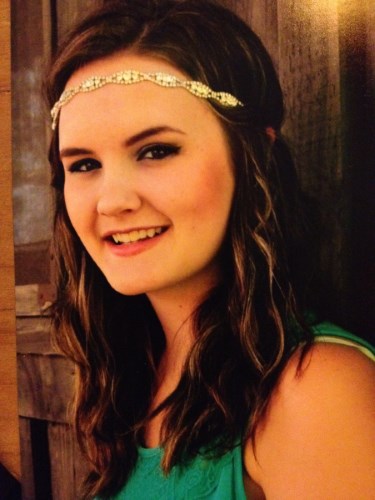 Caitlyn Nichole Billups is the daughter of Stephan & Stacey Billups and is a senior at Chapel Hill High School. Caitlyn is very active is FFA where she has participated in Chapter Conducting, Creed Speaking, Public Relations, Livestock Judging, and has served as Chapter officer as well as Area Officer attending District, Area and State Conventions as well as many Leadership Camps. She is also active in FCCLA where she has attended the regional conference in Waco and participated in the regain FCCLA culinary competition, placing 1st in Regional HEAT Cupcake Battle & 2nd in State HEAT Cupcake Battle. She has participated in many community service activities such as: Titus County Cares, Mt. Pleasant Animal Shelter, NTCC Farm Booth at Chamber of Commerce's Farmer's Market, Safe Trick or Treat, Ag Education Day, Handicap able Rodeo. Her fair participation includes: 4 years in Academic Rodeo Speech Contest, and 1 year in Academic Rodeo Science Fair, participated 3 years in Market Lamb Show, 1 year in Goat Show, 1 year in Heifer Show and 1 year in the Bake Show. This year she plans to participate in the ope Ag-Mechanics Show, Market Lamb Show, and Bake Show. Caitlin's work experience includes NTCC Farm, Hershel's & Angel Paws Pet Resort. She enjoys Advocating for Agriculture and has a Facebook page-Agricultural Rights Activists of America. She also enjoys, attending Officer Retreats, camps & Schools to put on Workshops about agriculture & FFA, Fishing,. Hunting, Reading, Public Speaking, Cooking & Dancing. Caitlin plans to attend Tarkenton State University and pursue a degree in Ag Communications hoping to one day work as a Public Relations Director.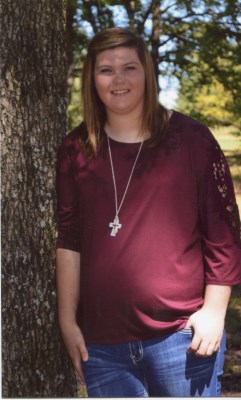 Sarah Lean Bradley is the daughter of Teddy and Jennifer Bradley and is a senior at MPHS. She is active in FFA where she has served as Officer all 4 years...Greenhand President, Reporter, Treasurer and Sentinel. Sarah has a passion for exhibiting Livestock and has continuously participated in the major livestock shows: State Fair of Teas, Houston Livestock Show, Ft Worth Livestock and San Antonio Livestock Show as well as numerous local show. This has allowed her to become very proficient in various livestock judging contests throughout her high school career. She has also participated & excelled in various Leadership Development Events and Career Development Events at the District, Area, and State levels including, Parliamentary Procedure, Quiz Team, Livestock Judging and Milk Quality. She received her Lone Star Degree at the Texas State FFA Convention this summer. Sarah began her fair participation by receiving 1st place on her Kindergarten Fair Poster Art, she participated in Academic Rodeo Speech Contest, Assisted with Steer weigh-in 8 years, assisted Photographer Set -up 10 years, set up fair fencing 3 years, livestock Barn Decorating 3 years, worked concession stand 3 years, exhibited breeding heifer 4 years, exhibited 1 Market Hog and 10 Market Steers, receiving Jr Showmanship 2 years and Senior Showmanship last year and Best Daily Weight Gain on Market Steer in 2010. This year she plans to exhibit a Steer and Heifer. She already has a small herd of cattle. Sarah has participated in the NTCC Work Scholarship Program and plans to attend NTCC and transfer to Tarleton State University to pursue a degree in Animal Science and Embryology.