2021 Winners
Each year we award the top boy and girl a $2500 scholarship and two $1500 scholarships to the 3rd and 4th ranking applicants. This year's winners are...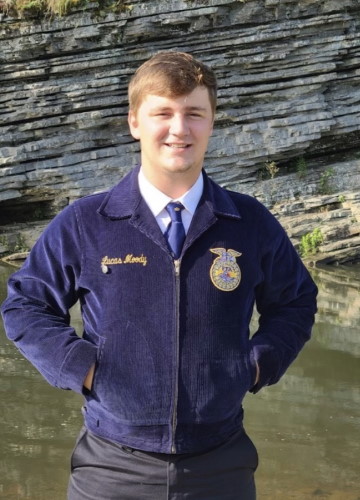 Lucas James Moody, a Senior at Chapel Hill High School is the recipient of a $2500 Titus County Fair Scholarship. Lucas is the son of Jerry and Deanna Moody. Lucas played basketball and participated in multiple events on the Varsity Track Team as a Freshman. He was on the Chapel Hill High School Fishing Team for two years, is a member of the National Honor Society and has been CHHS Student of the Week. He is very involved in FFA where he has served as a FFA Officer for 3 years; competed in contests; been on judging teams; attended many camps, retreats, conventions and shows. Lucas attends First Baptist Church in Mt. Pleasant where he has played guitar in the Youth Band and is on the Student Leadership team. He is a volunteer for Titus county Cares and many other projects through Church, FFA, National Honor Society and school. His entire family: Grandparents, Parents, Sisters and Cousins have all been involved in the Titus County Fair; so it is no surprise that his fair participation began in Kindergarten. He has competed in the Market Hog Show every year since 3rd grade and will do so again this year. He had Grand Champion Hog one year and Reserve Champion Hog one year, Junior Market Hog Showmanship 4 times and Senior Market Hog Showmanship 3 times. He has also competed in the Junior Heifer show and plans to compete in the Ag Mechanics Show this year. Lucas has worked for a Company that provided Aquatic Harvesting and Lake Cleaning and now works on his parent's and gandparent's family farms when he is not attending to his own business ventures. During the COVID-19 shutdown, Lucas rebuilt an old trailer and started his own lawn care business with some savings he had and a loan to purchase the equipment. He was able to pay off the loan in two months. He currently mows approximately 20 yards per week before and after school. He also purchased 2 head of cross bred cattle with a Farm Service Agency Loan and has grown his herd to 8 . (5 females and 3 males). He is a Red and Black Angus Association Member.
Lucas plans to attend Texas State Technical College in Waco, TX transferring to Stephen F. Austin to earn a BAAS through an articulation agreement between TSTC and SFA.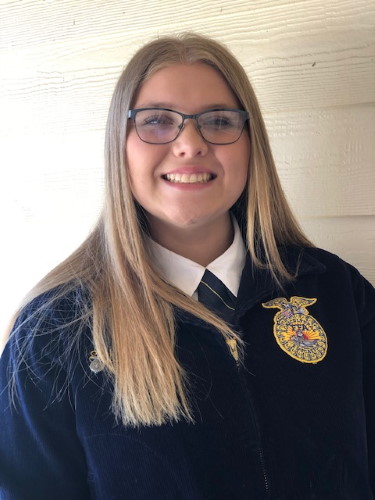 Emily Brooke Hughes a Senior at Chapel Hill High School is the recipient of a $2500 Titus County Fair Scholarship. She is the Daughter of Shannon and Donna Hughes. Emily is very active not only in school activities such as FFA, Future Business Leaders of America, National Honor Society, Student Council, Yearbook, Track, Volleyball, Basketball, Softball and has served as Class Officer several times; but in community service projects at Mt. Pleasant Fire Department, Guaranty Bank & Trust, North Ridge Church of Christ, NTCC and Mt. Pleasant Assisted Living. Her fair Participation began in 3rd grade as a Bake Show Participant for five years. She also was a Poster Contest participant as well as being in the Academic Rodeo for 2 years, and Public Speaking. She has been very active in FFA, attending conventions, serving as an officer, both leadership and Career Development events, and has traveled to several Major shows with her Ag Mechanics projects. At this year's Fair she will participate in the Ag Mechanics show with two projects as well as Prepared Public Speaking. Emily's work experience includes: NTCC's Work4 College Program for 2 summers, JoJack's Smokehouse, and is currently working at Randy's Burgers. She is on track to graduate high school already having an Associates Degree in Agri-Science from NTCC and transfer to either SFA or Texas A&M.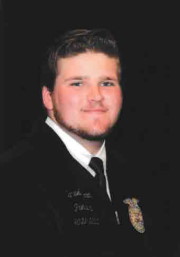 Samuel Gregory Brown, a Senior at Mt. Pleasant High School is the recipient of a $1500 Titus county Fair Scholarship. He is the Son of Tommy & Carolyn Brown. He is a member of the MPHS National Honor Society, Student Council, Football, Baseball and Swim Team. He has served as a MPHS FFA officer the past three years and is currently serving as President. He is also Area VI FFA President and was last year's Paris District FFA Officer Student Advisor. He received his FFA Lone Star Farmer Degree this year. Sam is a member of the MP Rodeo Association, Titus County 4-H and Shooting Sports team, Mt. Pleasant Splash Summer Swim Team member and Junior Coach. He volunteers for Casa Nerf Wars, Handi-Capable Rodeo, Naples Rodeo, Delta Waterfowl, Wild Turkey Federation, Titius County Cares, Trunk or Treat, League of Dreams, Catholic youth-Nursing home visits, Dixie League Baseball, PeeWee Football/Youth Basketball League, Band 5-7th grades, Cub Scouts, and is a Member of St.Marks Episcopal Church.
His Fair participation began in Kindergarden when he entered his Hot Banana Peppers in the Horticulture event winning the Sweepstakes Award.He would enter his Hot Banana Peppers 4 more years getting two more Sweepstakes ribbons and two 1st place ribbons. He continued for 6 more years entering food preservation, creative Arts, Horticulture, and Photography entries he then added a Market goat in 2019 and goats and Ag Mechanics in 2020. This year he plans to show a goat and a fabricated table in Ag mechanics. His work experience includes: working for Sign Express, Martin Farm, Jr. Swim Team Coach, Welding by the hour and building a chicken coop.
Sam plans to attend the University of Arkansas majoring in Animal Science and Ag Business. He plans to then apply to Veterinary School or graduate school.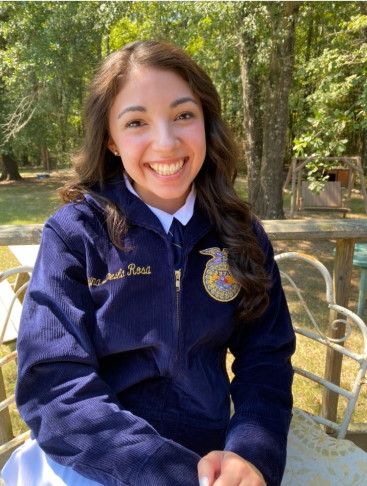 Rayna Lynn Delarosa, a Senior at Chapel Hill High School is the recipient of a $1500 Titus County Fair Scholarship. Rayna is being raised by Dawn & Gary Lockaby, her Aunt and Uncle following the death of her parents. She is a Varsity Cheerleader, a member of the National Honor Society, Future Business Leaders of America, Phi Theta Kappa Member and VP of International Thespians Society, Chapel Hill Education Foundation, Student Council-serving as an officer for two years, Club Red, and participates in Theatre. She is active in FFA where she is on the Poultry Judging team, and District Talent Team. Her Fair Participation began in 2010 with the Poster Contest, and continued on with the Academic Rodeo for the next 4 years. In 2015 she began exhibiting Market Goats through 2020. This year she plans to exhibit 2 Market Goats, have and entry in the Floral Contest and Sing the National Anthem before the Auction begins. Her work experience includes: Mt. Pleasant Animal Shelter, Childcare and house Cleaning. She is active in her Church Youth Group and Youth Choir. She volunteers for Trunk-or-Treat, Vacation Bible School, Harvest Festival, Animal Shelter, Little Dribblers, Priefert Horse Run, Titus County Softball Association Concession Stand, Senior Citizen Luncheon.
Rayna plans to attend A&M Commerce or Texas Tech University studying Business Administration.
The Titus County Fair Association wishes to thank all the Agri Science Teachers who tirelessly pour themselves into the lives of their students. Many lives have been changed by one teacher's willingness to listen to their gut and go the extra mile for a student who needs a little extra help to get on the right path. May God richly Bless you all.
Congratulations to all the Scholarship winners!