2023 Winners
​The Titus County Fair Association has announced the 2023 Titus County Fair Scholarship winners. This is the second year we have presented a total of $10,000 in Scholarships to four deserving students of Titus County.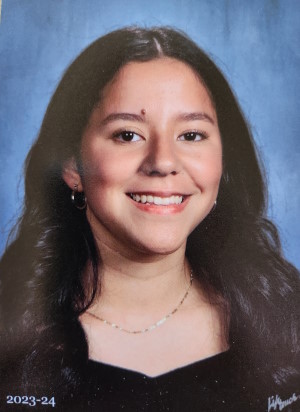 The young lady chosen to receive a $3000 Titus County Fair Scholarship for 2023 is Isela Lizbeth Gonzalez, daughter of Ramiro and Lourde Gonzales. She attends Chapel Hill High School where she is ranked second in her graduating class. She is a Dual Credit Student-Receiving credits for both Chapel Hill High School and Northeast Texas Community College.
She is very active in the Chapel Hill FFA Chapter where she has participated in many camps, as well as District, Area and State activities and attended both the State and National FFA Conventions. She served as Reporter last year and is currently serving as Vice-President of her local Chapel Hill FFA Chapter. She has received the Greenhand Degree, Chapter Degree and Lone Star Degree.
Isela is also very active in the Future Business Leaders of America where she has attended many contests throughout high school receiving recognition in most and State and National Qualifier in some. She has served as Chapter Reporter in the past and is currently serving as Area 6 Secretary and Chapter President. She has competed in UIL throughout High School in Accounting, Calculator Applications and Computer Applications and Number Sense, advancing to Regional in the first three. Other Activities include; Gifted and Talented Program, Spanish Club, National Honors Society, Prom Committee Chair and received an Academic Blanket in Honors Physics. Other honors include: Risk Award and Positivity Award from CHFFA, Young Successor Award and Go Getter Award by CHFBLA and the Rotary Youth Leadership Award for 2023.
Her Hobbies are: Photography and editing, Travel and Culture, Agriculture and Crochet and Design. She works as a Small Business Assistant for RomCom Properties, LLC. She volunteers with Saint Michaels Catholic Church, CH Harvest Festival, Chill on the Hill, Titus County Cares, Cypress Basin Hospice and Rhute Haven Homeless Service.
Isela's Fair participation began in 2015 with a Breeding Heifer Project. She has had a Market Steer Project and a Market Goat in the Livestock Show of the Fair. She has participated in three Junior Division Poster Contests, and one Intermediate Division Poster Contest. Last year she participated in Senior Prepared Public Speaking.
Isela plans to attend the University of Texas at Austin to pursue a Degree in Electrical Engineering, hoping one day to contribute to research for Aerospace exploration. She states that the Titus County Fair was the first event that allowed her to explore her interests beyond her home and something that wouldn't have been possible without the help of her older brother.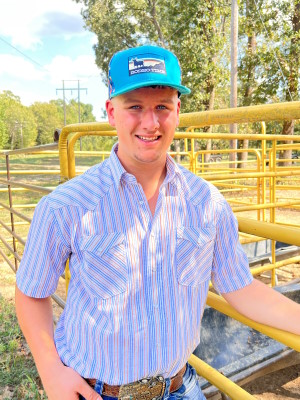 The young man receiving a $3,000 Scholarship is Karson Owen Brown, son of Jeffrey and Christina Brown. He is a Senior at Mt. Pleasant High School where he is active in FFA, earning the Top Hand Award, Star Lone Star Award, Above and Beyond Award, Ag Mechanics Energy Systems Entrepreneurship Award, Long Star Degree; competed in many judging contests, attended District, Area and State FFA Conventions, competed in Ft. Worth Stock Show Ag Mechanics and is currently serving as 23-24 FFA Reporter. He is active in the SPYFC Youth Rodeo Association, Naples Rodeo Association, Southwest Youth Rodeo Association & Christian Youth Rodeo Association where he has won many titles as a Chute Dogger. Karson has been active in Sports, playing Football through Jr. High, Freshman & Jr. Varsity, participated in Dixie Youth Baseball from age 5-14, participated in Cub Scouts from 2013-2016 and Boy Scouts from 2016-17. He is an active member of South Jefferson Baptist Church and Youth Group.
Karson loves trucks and is constantly adding something to his late Grandad's truck that he purchased at the age of 14. He also loves to work and has held jobs at R&C Tire Town, Brookshire's and is currently working at Caldwell's Machine and Gear.
Karson's Fair Participation includes Showing Meat Rabbits 2020-22, Ag Mechanics Show-20, Educational Day 2022, Panel Clean-up crew 2020-2022 & Boy Scouts Parking and Saturday Clean-up Crew 2016 & 2017. This year he plans to show a Pen of Meat Rabbits, and his Ag Mechanics Project-Mulcher as well as participate in Educational Day.
Karson is interested in getting a welding certification and becoming an Ag Teacher. However recently, the field of nursing has become of interest to him. Whichever path he chooses he plans to attend NTCC and/or a Trade School.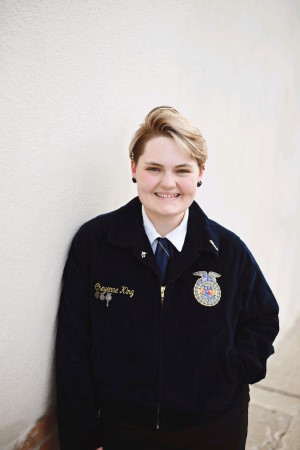 Cheyenne Mackenzie King, recipient of a $2,000 Scholarship, is the daughter
of Cole and Ashley Scoggins and is a Senior at Mt. Pleasant High School. She is very active in FFA, serving as an officer since her Sophomore year and serving as chapter Sentinel. This is her third year on the LDE Agricultural Advocacy Team and also her third year competing on the CDE Poultry Judging team. Other FFA activities include Fruit and Meat Sales, Ag Olympics, Greenhand Christmas Party, Trunk or Treat, Ag Awareness Day and attended both Area 6 and District Conventions the past 3 years. Cheyenne is also a member of the National Technical Honor Society, currently serving as Secretary.
She is a member of South Jefferson Baptist Church where she volunteers during Vacation Bible School. She loves animals and volunteers at a local dog shelter.
Her Titus County Fair participation began in 2014 when she was in third grade with the Market Goat Show, Market Hog Show 2015-2022, Breeding Guilt Show in 2022 She participated in Education Day 2020-2022, Worked in FFA Alumni Concession Stand in 2022 and helped set up and tear down panels for the Livestock Show. This year she plans to participate in the Market Hog Show, Breeding Guilt Show, Education Day and Setting up before and tearing down the panels after the livestock show.
Cheyenne works for her grandfather on his farm, helping him feed and care for the livestock, keeping up with deworming, medical records and wherever else her help is needed.
After graduation, Cheyenne hopes to attend Texas Tech University studying to be a Veterinarian to stay with her passion of caring for animals.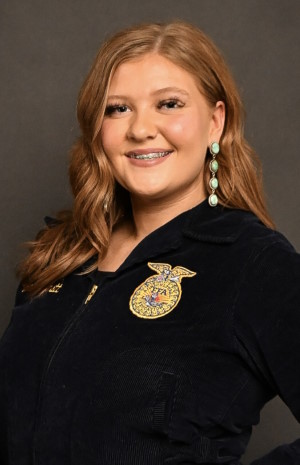 Leah Elizabeth Schmitt, the daughter of Kenneth and Amy Schmitt is the recipient of a $2,000 Scholarship. Leah attends Mt. Pleasant High School after transferring from Chapel Hill High School for her Senior year.
Leah has been very active in 4-H since 2022 and is currently serving as Secretary. She is also active in FFA beginning in third grade in Jr. FFA through 8th grade, and Chapel Hill FFA Chapter in grades 9-11. She has competed in many judging contests and Placed 3rd individual at the Area VI Livestock Judging Contest and fifth highest individual in the District IV Livestock Judging Contest in 4-H. She was Blessed to participate in the Community Clean-Up Project at White Rock Lake in Dallas, TX during the 2023 FFA State Convention, and also participated in the Community Seed Drive collecting seed packets to urban communities. During the Christmas Season of 2020, 2021 and Leah enjoyed participatin in collecting specific items such as blankets for local shelters as a project for the Chapel Hill FFA Chapter. She was awarded the honor of Top Hand at the 2019 Chapel Hill FFA Banquet and awarded the honor of Show Team Leader at the Chapel Hill FFA banquet in 2023. She was elected Reporter for the Chapel Hill FFA Chapter for 2023 before transferring to Mt. Pleasant High School, where she continues to be an active member there.
Leah's fair participation began in 2014 when she was in 3rd grade showing a Market Hog. She continued showing Market Steers, Market Hogs and Breeding Heifers through 2022 showing a total of two Market Hogs, 5 Market Steers and 9 Breeding Heifers. Her Steer was awarded Reserve Champion in 2021. She received 5 Grand Champion Steer Showmanship Awards, 4 Grand Champion Heifer Showmanship Awards and got to participate in the first ever Round Robin Showmanship contest in 2022. Also in 2022 her Simbrah heifer won her breed and the American Division and ended up getting Overall Grand Champion Heifer. 2020 was known as the "Covid Show" since there was no Fair, but the contestants were allowed to show their animals. She placed second in showmanship with her Breeding Heifer that year. Other Fair participation included placing second in the Academic Rodeo Essay Contest in 2016 where her wonderful fifth grade teacher assisted her in writing her essay about showing breeding heifers and preparing them for the show. For this year's 2023 Fair she plans to show another Market Steer as well as 2 heifers for the Breeding Heifer Show. She is hoping to continue her winning streak on this her 10th and Final Show in which to participate. She also plans to participate in Education Day and the First Annual Livestock Judging Contest with her 4-H Judging team.
Leah's work experience includes babysitting, working in her Church Nursery, taking children home from events that their parents are unable to attend. She also takes care of several friends and neighbors homes and pets while they are away, rakes hay for her brother to bale and works at the Sugar Emporium in downtown Mt. Pleasant.
Livestock and the management of livestock is her passion. She is known to be "zero drama" and loves to help others find the positive in situations. She loves her Corgi dog, Callie and usually has at least two farm animals in her barn at all times. Other interests and hobbies are Livestock Judging, Studying Cattle Genetics, photography, hanging out with friends and getting to meet new friends at her new high school.
Leah hopes to attend a Jr. College and is interested in Blinn, Jr. College in Brenham since they have a strong Livestock Judging program. She then plans to attend Texas Tech or Texas A&M University studying animal science and specializing in cattle genetics.