Darrin Morris Band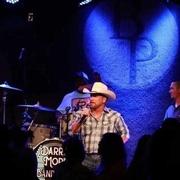 With a show that has been forged in the fire on stages across the country and in their home state of Texas, the group's hard work is paying off. The band continues to build momentum performing at clubs, casinos, fairs and high profile events including the Longview Cattle Baron's Ball, the Great Texas Balloon Race and the Houston Livestock Show and Rodeo.
The Darrin Morris Band began performing together in October 2012, with just a few friends getting together to play at a local restaurant near Gilmer, Texas where the group is based. Soon, their camaraderie and common musical vision lit a fire and during the last seven years the group has played across their home state of Texas, as well as Oklahoma, Louisiana, Arkansas, Missouri, Wyoming, Kansas, Nebraska and in Nashville, Tennessee.
Lead singer Darrin Morris first began singing as a teenager in the church where his father pastored. It was his love of Gospel combined with the influences of Country artists such as George Strait, Garth Brooks and Keith Whitley that helped to shape the soulful vocal style that has become his trademark. Morris is joined in the group with the exceptional talents of Jeremy Moore on drums and backing vocals; Forest Johnson on bass guitar; Payton Pierce on lead guitar and Phillip Griffith on rhythm guitar.
With the success of their chart-rising single, and a well-received 2015 debut album Country To The Bone under their belt, along with a mantle of awards from the East Texas Music Awards and the Nashville Universe Awards, the Darrin Morris Band are making their mark and all signs point to a very promising future, indeed.
Share this: