Plant Guy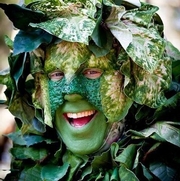 Plant Guy is a very interactive performer – a high touch one-on-one entertainer. This strolling entertainer won't beat about the bush!
He has a fabulous selection of plant costumes, each one covered in colorful handmade flowers for all seasons.
Plant Guy adapts his hilarious humor and 'plant-related banter' for all ages and plays well with the whole family. He can be seen standing or sitting in his flowerpot or driving around, standing on a mini-Segway. This character is the hit of the show wherever he transplants himself!
Share this: